Summer is right around the corner, and Tajín is the best partner to give a pop of flavour to summer drinks. Tajín is recognized as the best option to cover up the border of the glass. Unlike salt, Tajín brings up that bit of spiciness that makes summer drinks more exciting and tasty.
---
---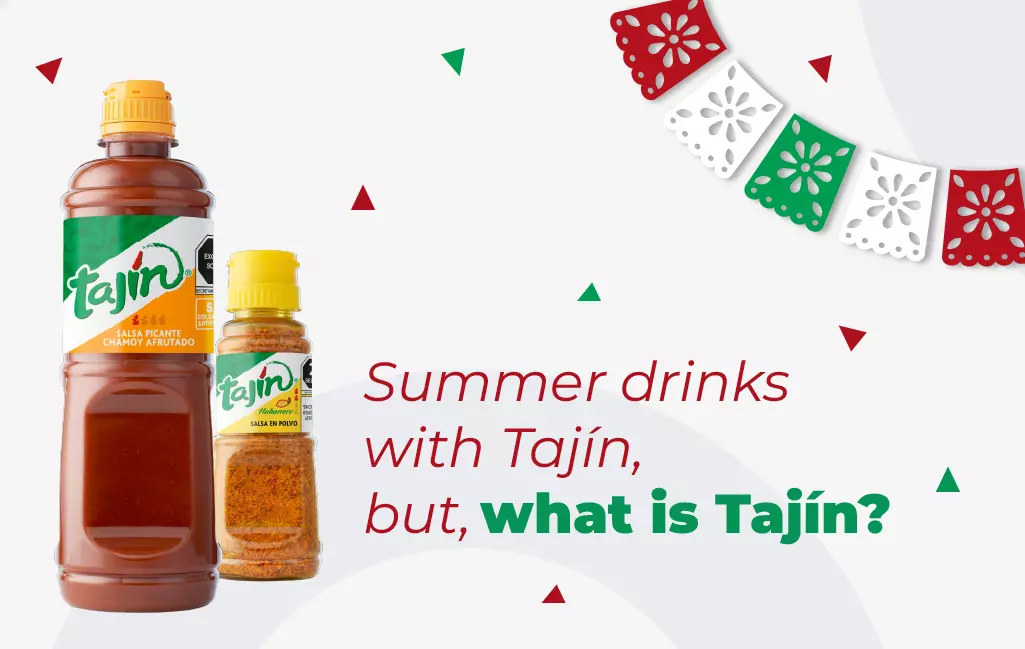 Summer drinks with Tajín, but, what is it?
Tajin is a seasoning mix of dried and ground red chillies. Árbol chillies, guajillo and pasilla, sea salt, and dehydrated lime juice are some ingredients that give Tajín's signature spicy, tangy flavour. Tajín comes in powder, sauce and rimmer presentations. This product has no artificial flavours or colourants, sugar, or calories.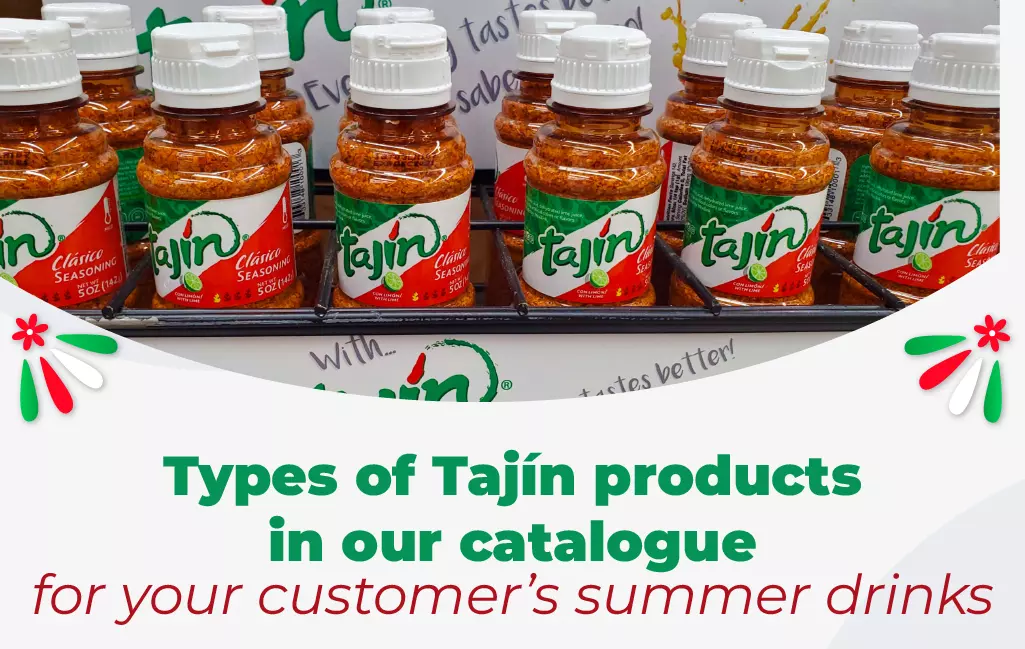 Types of Tajín products in our catalogue for your customer's summer drinks
Tajín Chili Powder
This delicious Tajín powder is the ideal combination to enhance the flavour of your customers' favourite fruits or vegetables. It is moderate in spice and made up of dehydrated lime, salt, and chilli peppers. This delicious mix of quality ingredients makes it great for your customer to use in micheladas or pour over their favourite fruits and drinks for that smoky and tangy flavour.
---
Tajín Low Sodium Chili Powder
This tasty Tajín powder preserves the flavour of the Classic Tajín Powder, including low sodium salt. Sprinkling this spice mix onto any fruit can work wonders. Your customers can use this Tajín powder on mango, pineapple, melon, or any sweet fruit. It will surely leave their taste buds tingling with joy and their bodies feeling guilt-free.
---
The Tajin Habanero
This extra spicy powder is a blend of dehydrated lime, salt, chilli, and boldly hot habanero peppers. It gives an extra punch of spiciness to your dishes, micheladas or favourite fruits and vegetables.
---
Classic Sauce
This creamy Mexican sauce is rapidly reaching legendary status amongst condiment enthusiasts. Tajin's adaptable mix of quality ingredients makes for the perfect addition to any of your customers' savoury nibbles like potato chips, popcorn, or sweet and tangy fruit.
---
Chipotle Sauce
This presentation adds another favourite to the perfect Tajin mix for an extra kick of bold flavour, Chipotle chilli. Your customers can sprinkle this delightful mix on their favourite fruit, vegetable or snack.
---
Chamoy Sauce
This delicious sauce adds Chamoy to the already tasty Tajin mix. Chamoy is a tangy, sweet, and sour sauce made from pickled fruit with a thick consistency ideal for brightening up a customer's snack or zesty cocktail.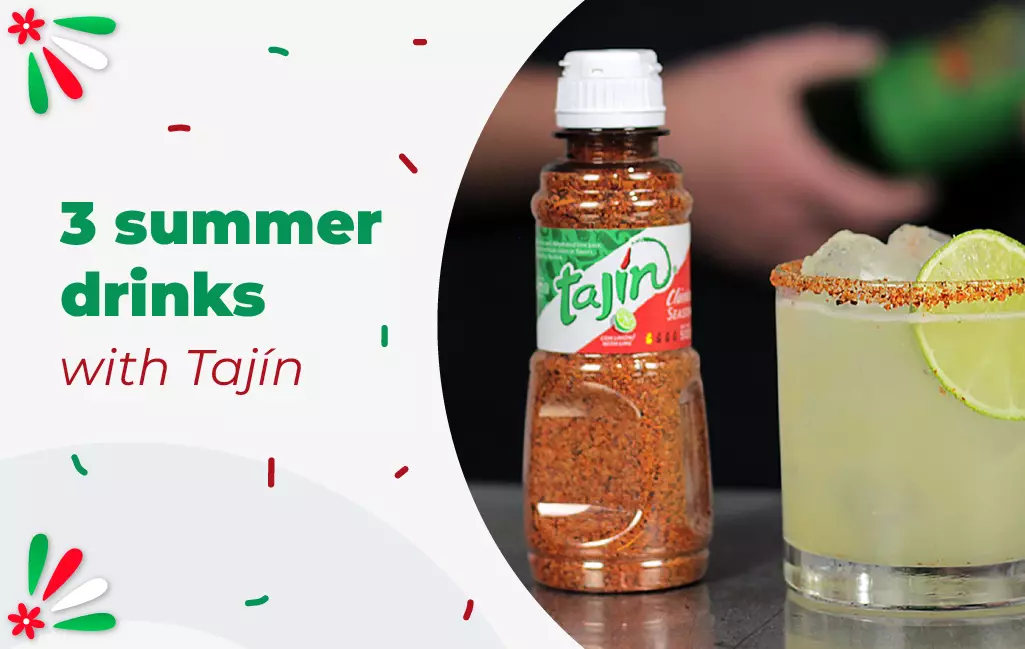 3 Summer Drinks with Tajín
Tajin Mango Margarita

There is no best combination for Tajin than fruit or alcohol, but how about both? In this Tajin Mango Margarita, we mix the best of both worlds.

For this drink, mix your favourite tequila, some lime juice, orange juice, agave, mango chunks and Tajín to rim your glass or even spice the drink. Enjoy!
Watermelon Smoothie

A blend of frozen watermelon cubes, strawberries, and yoghurt makes this refreshing drink perfect for summer.

Add your frozen watermelon cubes, strawberries and yoghurt (optional) to the blender. You may also want to add some Tajín powder to spice it up. Serve in a Tajín rimmed glass, and you can also add some watermelon chunks sprinkled with Tajín to decorate your drink.
Beer Michelada

Nothing better than a cold beer during summer, right? But how to make it pop? Serving your beer in a glass top covered with lime juice with Tajín will give everyone the punch of flavour everyone wants.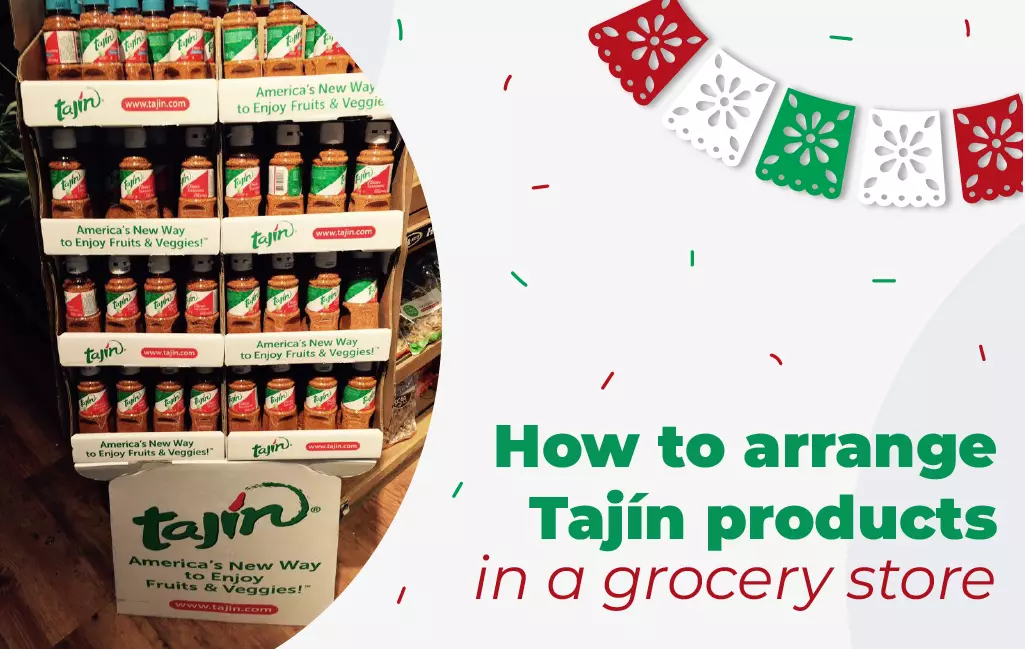 How to arrange Tajín products in a grocery store
Tajín goes perfectly with different dishes, such as Tacos, Fish, Pasta, Chicken and even preparations with rice and cocktails. But, for this upcoming season, Tajín is the star ingredient in cocktails and beverages.
That means you should place Tajín next to the alcohol section, especially next to the beer, so your customers can use them for Micheladas.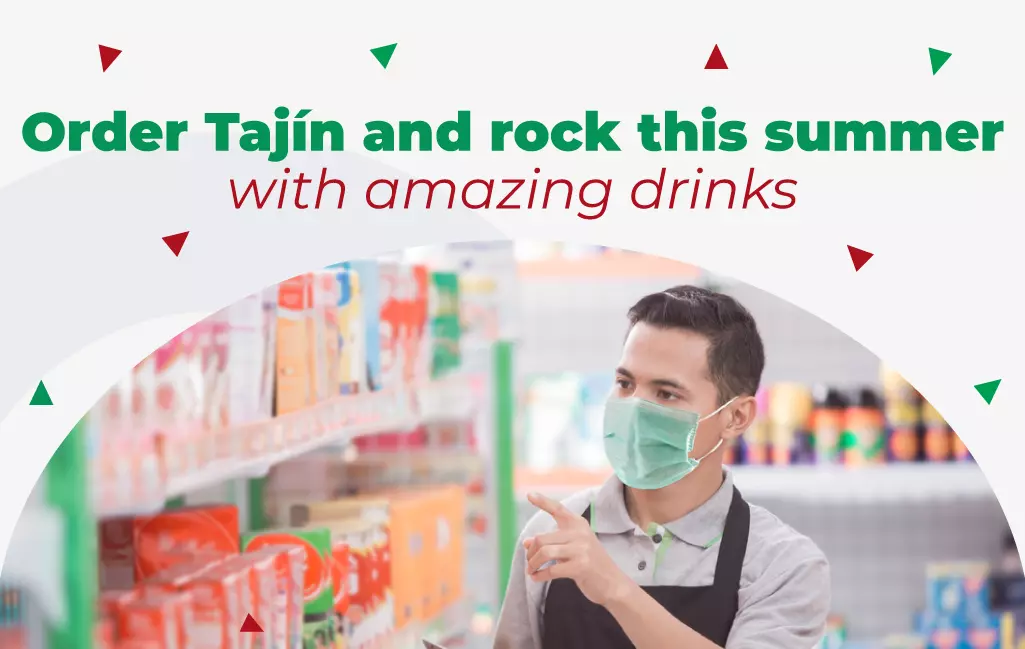 Order Tajín and rock it this summer drinks
The first step, visit our Mexican products catalogue to learn about all the options available and include them in your order. Then, list all your questions about Tajín, Mexican products, or partnering with Crevel.
Finally, Continue the process guided by your assigned supplier. Click here to send an email to our sales team dedicated to assisting our clients with their orders and requests.
We are glad to have you on board.