American candies are here to sweeten your customers' lives. Some of the most famous American sweets worldwide are M&M's, Hershey's Kisses, and Reese's Peanut Butter Cups.
M&M's are little circled chocolate candies with a hard shell in many colours. Hershey's Kisses are small chocolates with a creamy centre that come in different flavours like milk chocolate, dark chocolate, and mint. Reese's Peanut Butter Cups have peanut butter and come in different flavours, like milk chocolate peanuts, dark chocolate peanuts, and white chocolate peanuts.
Like these, you can find many more for which your clients will go crazy this October. Read this post to know what to include in your stock next Halloween.
---
---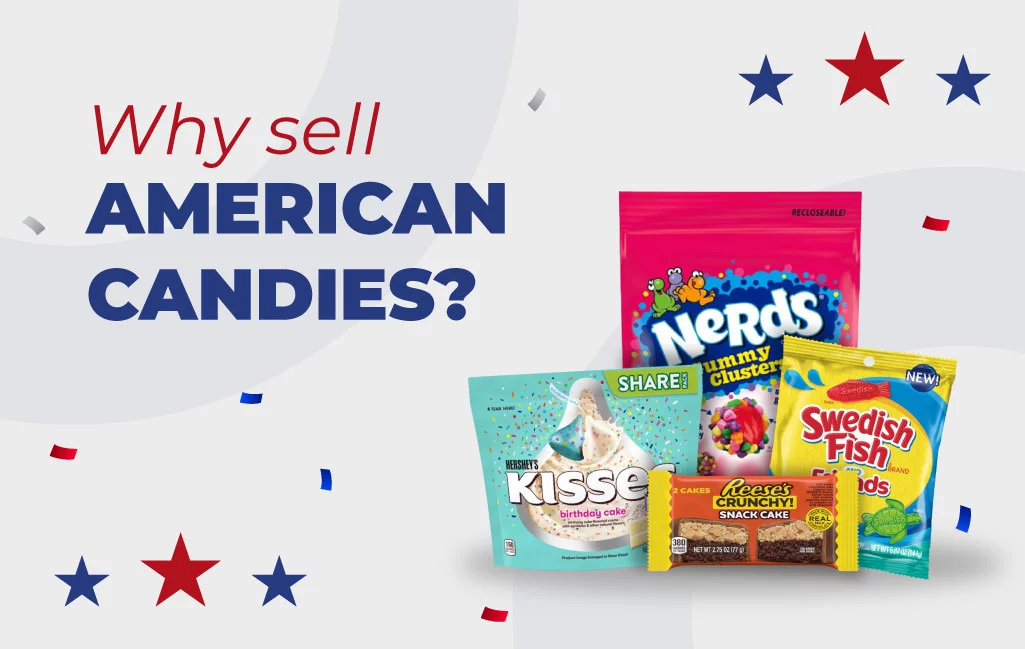 Why sell American candies?
Halloween is the time of the year when candy consumption increases the most.
One of the reasons why candy is so popular is because they are so tasty, and they brighten your customer's day with just some bites. There are various types of candy to choose from, and you can even get them in different shapes and sizes.
American candy brands are some of the most popular worldwide. In this season, your customers want various candies to provide to the kids going trick or treating, for themselves and even for Halloween parties.
This article will list some of the best Halloween American candies. We will guide you to let you know what kind of candy may work best for your customers.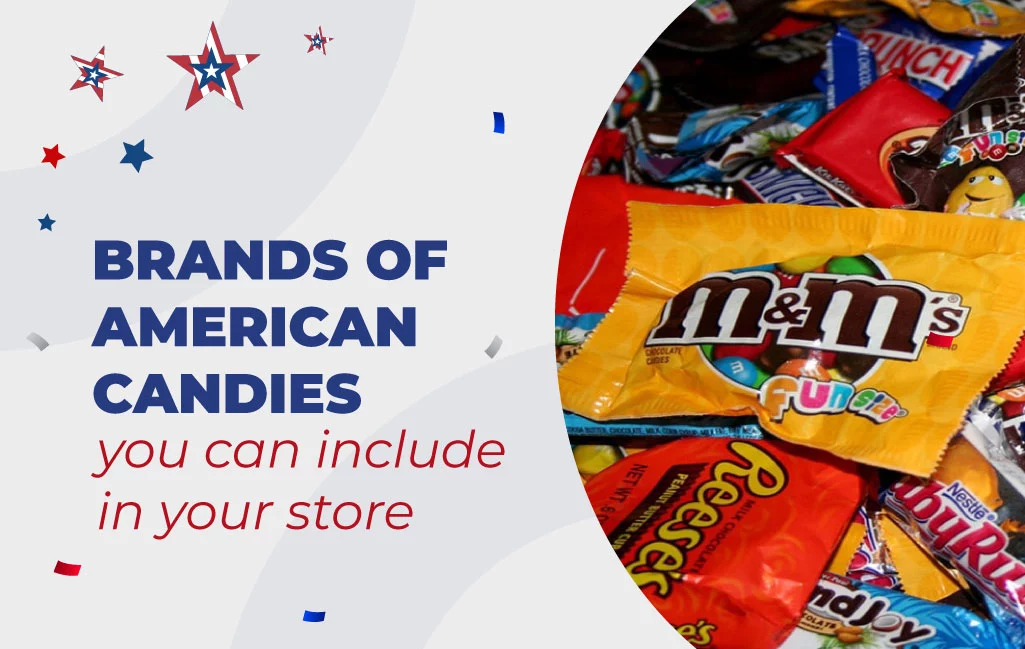 Brands of American candies you can include in your store:
Sour Patch: This brand is perfect for gummy lovers that not only want something sweet but sour at the same time. These little man-shaped gummies come in different colours and flavours, making them the best option for your customer/s that want to leave their guests (and themselves) drooling. 
Mike & Ike: It is a delicious sweet taste of fruity chewy candy with some original fruits, bursting with five fun flavours, including Cherry, Lemon, Lime, Orange, and Strawberry. It's fruity and chewy. It also has other assorted flavours, including tropical typhoons, berry blast, mega mix, mega mix sour, and many more. For sure, it is the best option for Halloween. 
Jolly Rancher: Jolly Rancher is an American brand of sweet hard candies, gummies, jelly beans, lollipops, sour snacks, and a line of soft drinks, indeed the perfect candy allies to share at Halloween events and parties.
Reese's: These delicious peanut butter cereals are small cereal balls covered with chocolate. Their flavour is a mixture of chocolate and peanut butter. This type of chocolate is the best option for this time of the year when chocolate is the main character.
Trolli: Delicious multi-flavoured gummies coated in tongue-twisting goodness, hitting the perfect balance of sweet and sour in every bite. They're that perfect sweet and sour combination for Halloween. 
Airheads: Airheads are chewy fruit candies packaged in eye-catching packaging and in various flavours that are ideal for sharing in costume on Halloween. 
Skittles: Skittles is a brand of fruit candies with a rigid sugar coating with the letter S marked on each candy. These delicious and colourful candies are ideal for filling with colour this time of the year, Halloween. 
M&M's: This genius brand has created characters for these candies. Each colour has a different personality; they even sell shirts and stationery. This worldwide-renowned brand constitutes delicious tiny circular chocolate pieces in different colours with the characteristic m's in them. They are perfect for you to get in stock and increase your revenue. 
Hershey's: This is a chocolate bar produced and marketed by the American chocolate company: The Hershey Company. It is undoubtedly the most famous chocolate bar in the world thanks to its unique and incomparable flavour. It is the best chocolate to toast and give as a gift on Halloween. 
Hubba Bubba: Hubba Bubba is a brand of chewing gum, it is less sticky than other brands of chewing gum, so the bubble, when popped, is easier to detach from the skin. Its presentation in a roll makes it eye-catching to the public, and without a doubt, it is the best chewing gum to share on Halloween. 
Warheads: The explosive Warheads candies are a brand of sour or acid candies whose contrasts are perfect for joking and having a good time on Halloween. They should be at your parties for these dates because their explosive flavours delight everyone. 
Twizzlers: Twizzlers is a famous brand of fruit-flavoured candies. They are made from artificial flavourings but do not contain the ingredient. Made for sharing, Twizzlers can help lighten the mood for parties, trips and terrifying Halloween nights. 
Swedish Fish: Swedish Fish is a fish-shaped chewy candy. Because of their shape and flavour, they are a must on Halloween for your customers, where you can joke and at the same time taste their delicious flavour. 
Nerds: Nerds is the candy brand that brings together what everyone would like, chewy and crunchy candies, small and therefore easy to share, which makes for a fantastic night out with friends, especially on Halloween.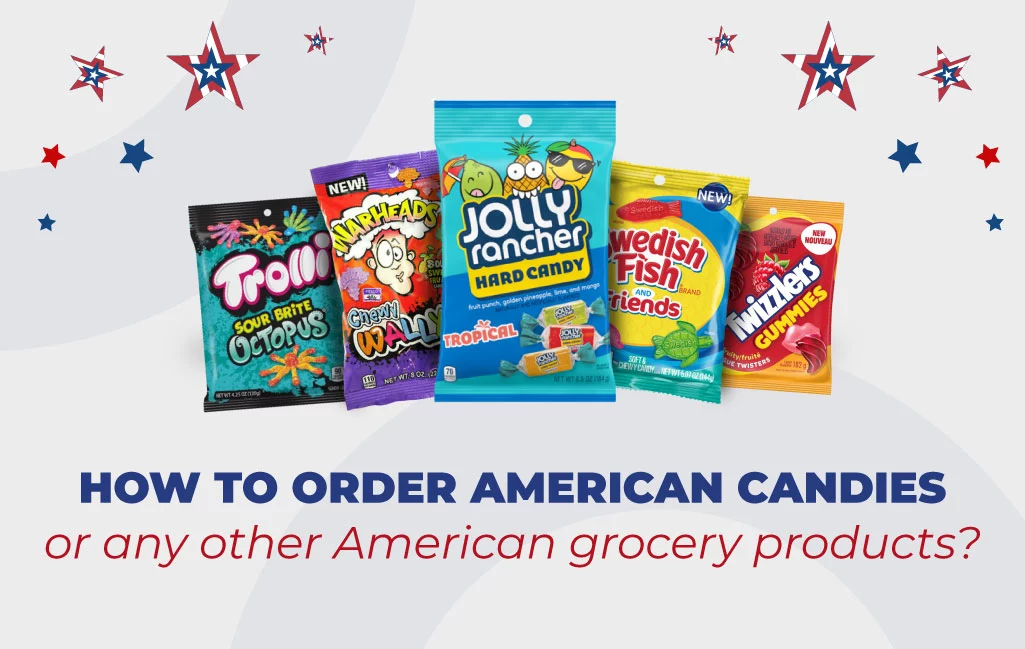 How to order American candies or any other American grocery products?
Suppose you are determined to add some delicious candies exclusively thought and designed for your customers on Halloween. In that case, we are glad to collaborate with you.
It is beneficial for your business to include these high-quality and popular candies. They will satisfy your customer's needs during the Halloween season, and, in any case, your customers will be delighted to try them.
Contact us, and we will help you place your order. Here we mention some of our products, but of course, there are many more you can select from our American catalogue.