Mexican hot sauces are the best you will ever find in the market. Mexico is characterised by their spiciness in foods; they are experts in creating spicy sauces that will give that hot pop of flavour to any meal your customers want.
From soups to protein and even beverages, Mexican hot sauces will stand out from the rest of the hot sauces in the market. 
---
---
Mexican hot sauces that are trending across Europe
Several Mexican hot sauces are trending in Europeans. Cholula and Tajín are characterised by their unique hot and tasty flavour and are starting to grow recognition across Europe.
Other hot sauces trending are Valentina brand and Yucateco, which are beginning to expand their place within European meals and beverages. Let's look deeper at each of the Mexican hot sauces you can offer your customers.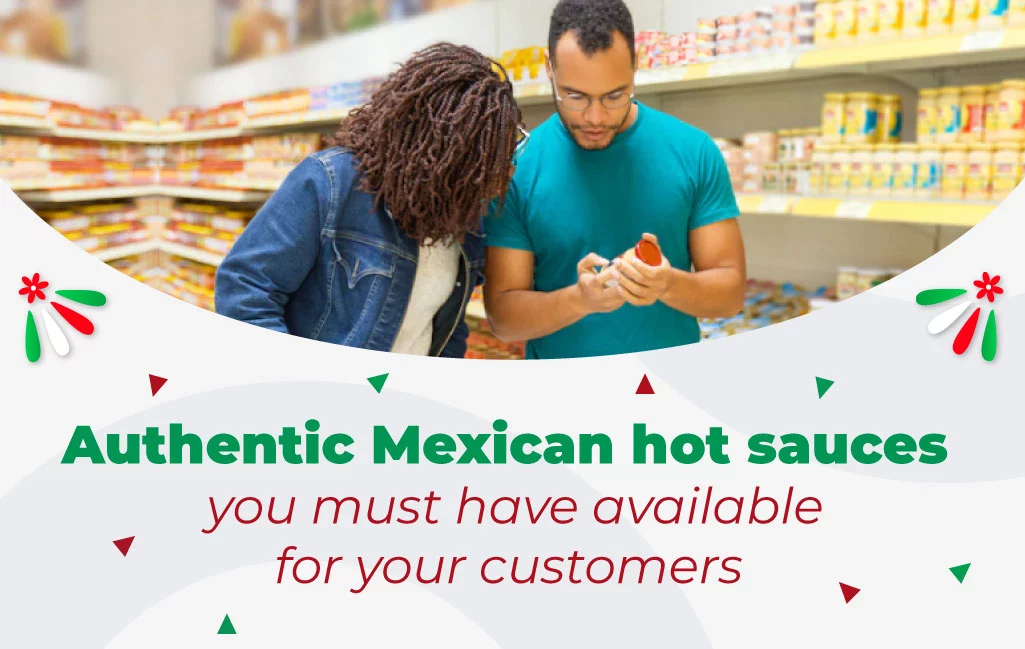 Authentic Mexican hot sauces you must have available for your customers
Valentina
This is Mexico's leading hot sauce. The queen amongst hot sauces because of its low vinegar content, thick-bodied consistency, and all-around incredible flavor that will go perfect with basically any dish your customer wants. 
These hot sauces come in a presentation of 1 lt and 370 ml giving your customers the quantity choice according to their specific needs.
This brand's sauces also come in a yellow and black presentation to differentiate the spiciness level.
The Black label is the spicier version of the brand, upping the heat level while maintaining all the delicious flavour.
---
Cholula
Cholula is one of the most recognisable Mexican hot sauces worldwide, with its iconic wooden cap and flashing label that evokes an authentic Mexican feel.
Your clients can enjoy Cholula hot sauce with different tasty flavours included. Cholula's original has its classic hot and joyful taste, the sauce's medium-heat spice makes it wildly popular.
The original vegan-friendly recipe of Árbol and Piquin chillis has prevailed for generations.
There is also Cholula's chipotle, a smokier, sharper, and hotter condiment than the original.
At the same time, you can find a variety of flavours: Cholula limón, green pepper, Garlic and sweet habanero. Each one gives a particular pop of taste to red meats, potatoes and several preparations that go perfectly with this sauce.
---
Tajín
Tajin's recipe calls for a savoury mix of natural spices, primarily chilli peppers, lime, and salt.
They come in the original flavour, Chamoy sauce and Chipotle sauce.
Chamoy is a tangy, sweet, and sour sauce made from pickled fruit with a thick consistency ideal for brightening up a customer's snack or zesty cocktail.
Chipotle presentation adds another favourite to the mix for an extra kick of bold flavour.
This adaptable mix of quality ingredients makes the perfect addition to your customers' savoury nibbles like potato chips, popcorn, or sweet and tangy fruit.
---
La Anita
La Anita is a Mexican hot sauce with more than 100 years of tradition in the market.
Your customers will get transported to the Yucatan Peninsula with this exquisite fiery salsa.
La Anita is the ideal addition to any meal with its different options.
The original recipe (Habanera Roja) is made from red habanero chilis that go incredibly well with seafood, poultry, and many other dishes.
The exquisite smoky chipotle taste and habanero's fiery kick are perfectly mixed in the La Anita Habanero Chipotle option.
For customers who are a fan of the exquisite fruity taste of mango, the Mango Habanera salsa is one of the tastiest, sweetest sauces of the brand.
We also have available great flavours your clients will love: Habanera Verde, guacamole and tamarindo, and the roasted flavours of Red or Green Habanera Totemada. The latter surprises with their incredible smoky taste.
---
Yucateco
Habanero chillis are the main ingredient of this hot sauce. It also brings a punch of spiciness to almost every meal with different scents of taste options.
The red and green Yucateco sauces differ on the type of habanero. They are made from and are both perfect for seafood, poultry, and many other dishes.
The Yucateco Habanera Negra gives that smoky taste to the regular habanero chilis flavour. There is a super hot option for spice lovers: Yucateco Habanera XXXtrahot.
---
La Meridana
La Meridana sauce gives your customers several options of flavours mixing fruits and spices.
Their special recipe of fresh and sweet papayas and the mango option combined with fine herbs will give your customers' dishes an incomparable flavour.
The Smoked habanero sauce is made from a traditional recipe with onion, garlic and spices. The chillies used for Tamulada sauce are artisanally roasted to highlight the habanero's potent flavour and heat.
Don't forget the traditional red and green Meridana sauces. They will give that pop of taste to any of your customers' meals with the red and green habanero chillies flavour.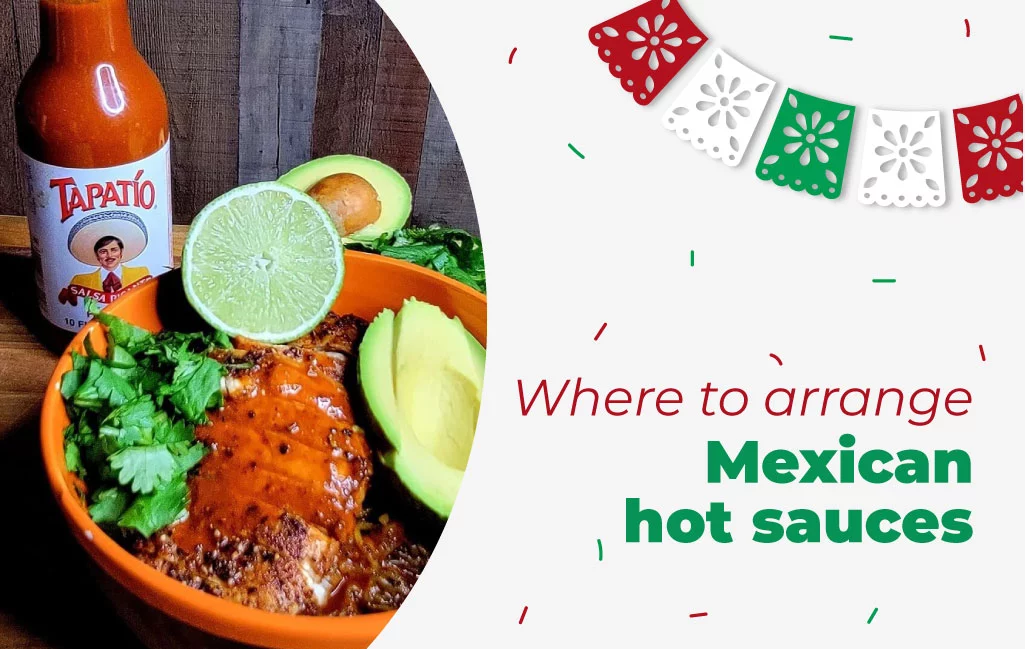 Where to arrange Mexican hot sauces
You may arrange the Mexican Hot Sauces in the imported products section. Specifically in the area where imported hot sauces or imported Mexican products are. That way, the customers looking for international new flavours can easily find them.
Mexican Hot Sauces go well arranged in the dressings and sauces section. All customers looking for better ways to season their meals can find these incredible products to taste.
Also, try to place Mexican hot sauces near meat and legumes. They are an excellent companion for this kind of meal.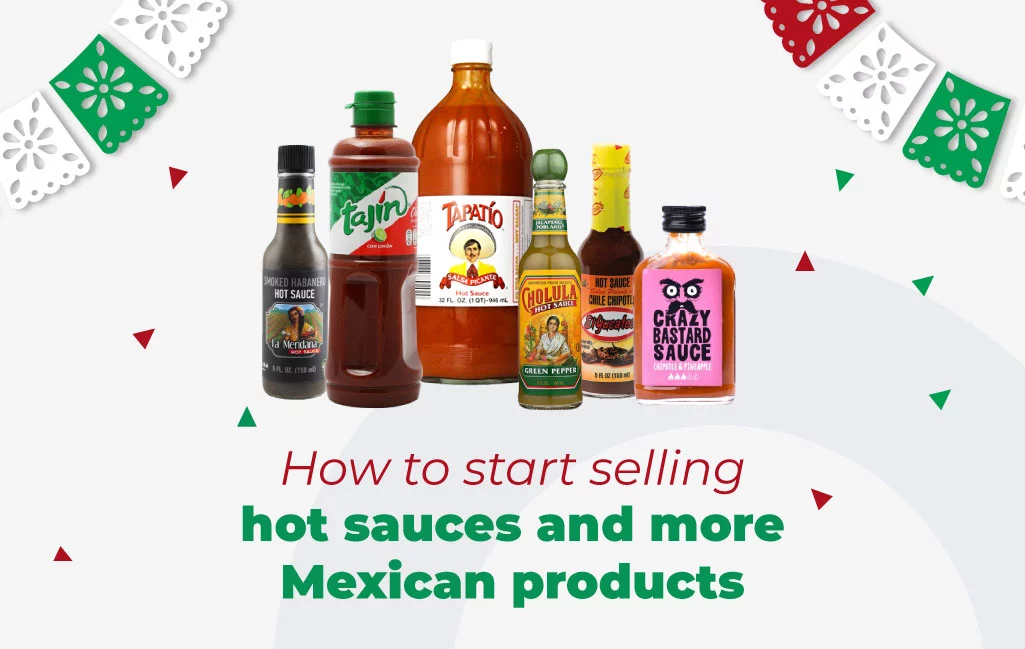 How to start selling hot sauces and more Mexican products
If selling hot sauces is your decision (a perfect one, we must say), start selecting the products. We can help you in the whole process and with any further information needed.
Once all your questions are solved, the designated consultants will guide you through the whole process. This includes how to arrange and sell more of these products. Contact us any time, and we will be ready to help you increase your revenue.
Click here to review our Mexican products catalogue. There you can find the details about the hot sauces or any other Mexican grocery product we have.
If you need our assistance, click here or use the banner below. We will contact you back as soon as possible.