Summer is almost here, and your customers will be looking for some food and drinks to spend the warmer time with loved ones. That is why we brought you this blog the Mexican ingredients your customers can include for their summer drinks.
Make sure to read until the end and share it with your team. That is a simple way to assure they will have the proper information to advise any customer about Mexican flavours.
---
---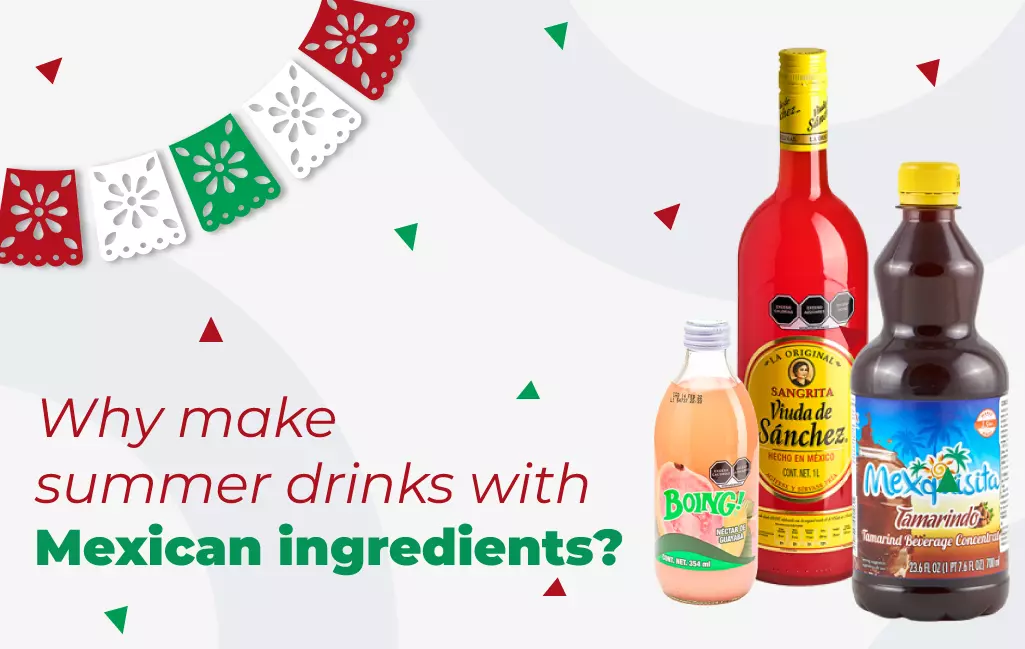 Why make summer drinks with Mexican ingredients?
Mexico has a very tropical culture. Having access to the Atlantic and Pacific coasts, Mexicans know how to enjoy their beaches during the warm seasons. Those regions are tourist epicentres, and summer drinks are essential during this time.
Mexican ingredients can add some flavour to your customers' regular summer drinks. And they are counting on you to provide them with those authentic Mexican products.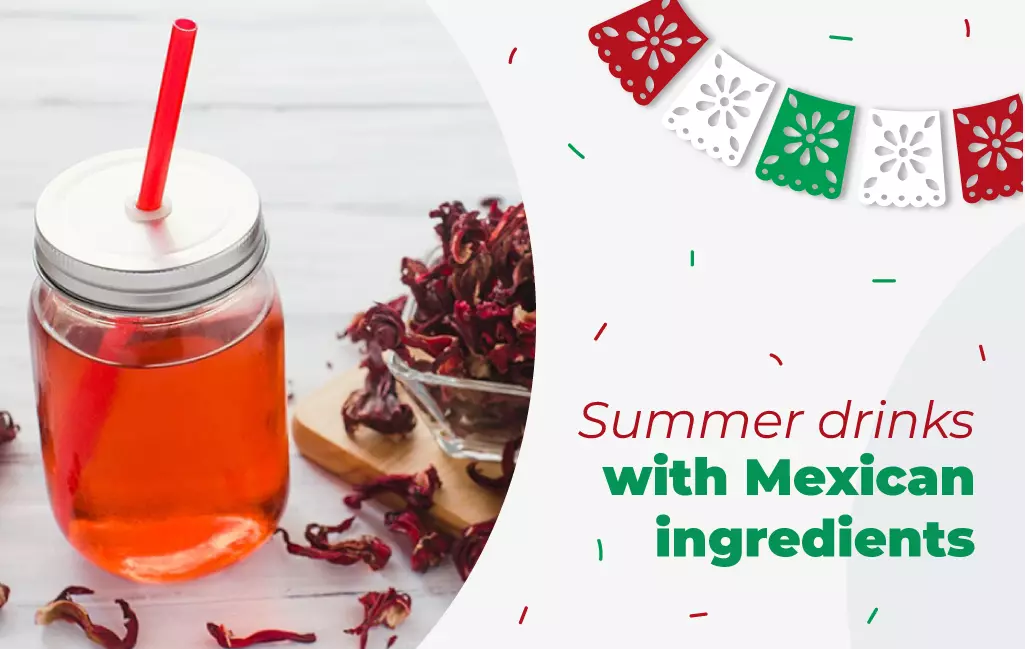 Summer drinks with Mexican ingredients
Michelada with Clamato
Their signature recipe is a true legend. The Authentic Clamato Michelada is an easy-to-prepare beer cocktail. Well-known as the tastier way to cure a hangover. Great for the weekend BBQ, brunch with friends or a drink to spark a moment.
According to Clamato's official website, your customers will need:
1 Key lime or ReaLime® (to taste)
4 oz. Clamato® Original
1 dash Worcestershire sauce
2 dashes of habanero pepper sauce
1 12-oz. bottle of beer
Ice
1 lime wheel
Tajín®
All they will need to do is:
Run lime across the rim of the mug.
Dip mug in Tajín to coat evenly.
Add ice.
Add lime juice, Worcestershire sauce, and habanero pepper sauce.
Fill with Clamato and beer.
Garnish with a lime wheel.
Strawberry Mango Smoothie
This easy recipe only takes 15 minutes and lasts for two portions. It is perfect for when yous customers are relaxing by the pool.
They will need:
To make the smoothies, they must:
Add ice, mangoes, water and sugar to the blender. Blend slightly and stop the process from adding TAJÍN® Classic Powder. Finish blending.
Repeat with the strawberries.
Place both mixtures in a glass in equal measures.
And, of course, they will need to rim the glass:
2 tbsp. TAJÍN® Classic Powder
2 tbsp. TAJÍN® Chamoy Sauce
Rim the glass in TAJÍN® Chamoy Sauce first, and then in TAJÍN® Classic Powder. Serve and enjoy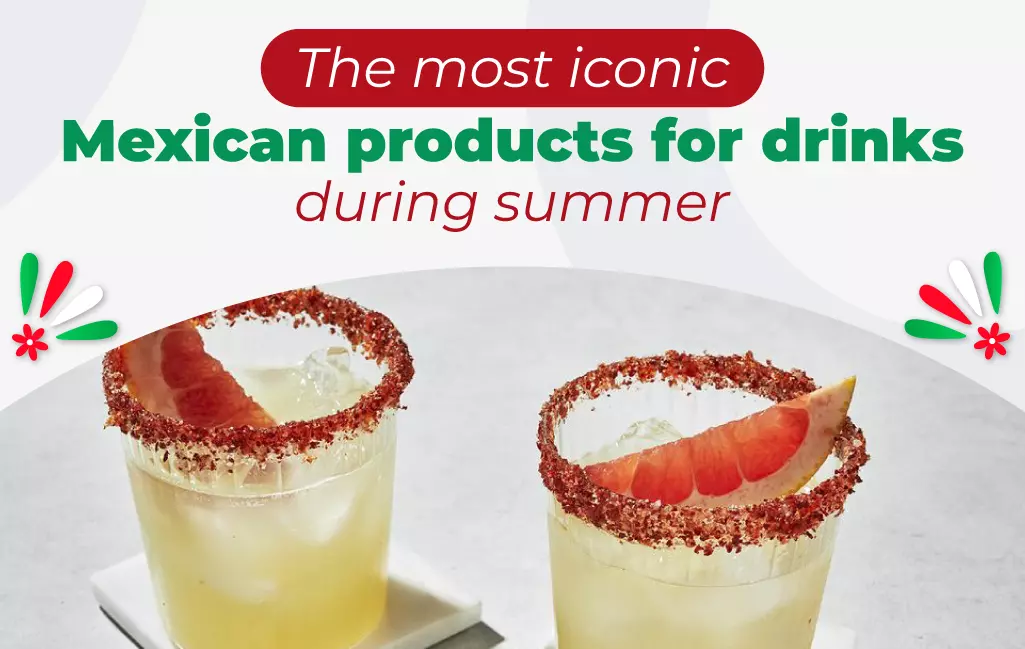 The most iconic Mexican products for drinks during summer
There are many Mexican ingredients to include in summer drinks. Here we recall some of them, covering the ones that are perfect for cocktails and the summer drinks that can be alcohol-free.
Clamato
As the name suggests, this product combines tomato and clam juice. Adding hot sauce, lemon juice, black pepper, and Worcestershire sauce give it a hearty, spicy taste. Customers enjoy it served as a drink on its own but commonly use it in cocktails.
Tajín
Tajin is one of Mexico's most widely popular spices, rapidly gaining recognition in the USA and worldwide. Tajin is made-up of a blend of dehydrated lime, salt, and chilli peppers. This blend is ideal for enhancing the flavour of your customers' favourite cocktail. They can make the perfect Michelada or Bloody Mary with Tajín.

How to? Simply by squeezing lime or orange juice onto the provided packaging lid. Right after, they can soak the rim of their glass with the liquid and then continue to dip it into the Tajin powder. Once they perfectly cover the edge with Tajin, they can proceed to mix the preferred cocktail and enjoy!
Jamaican Flower
Jamaica, or hibiscus water, is a refreshing Mexican drink with a beautiful bright red colour made from an infusion of the hibiscus flower.

We have dry flowers for your clients to make some fresh water.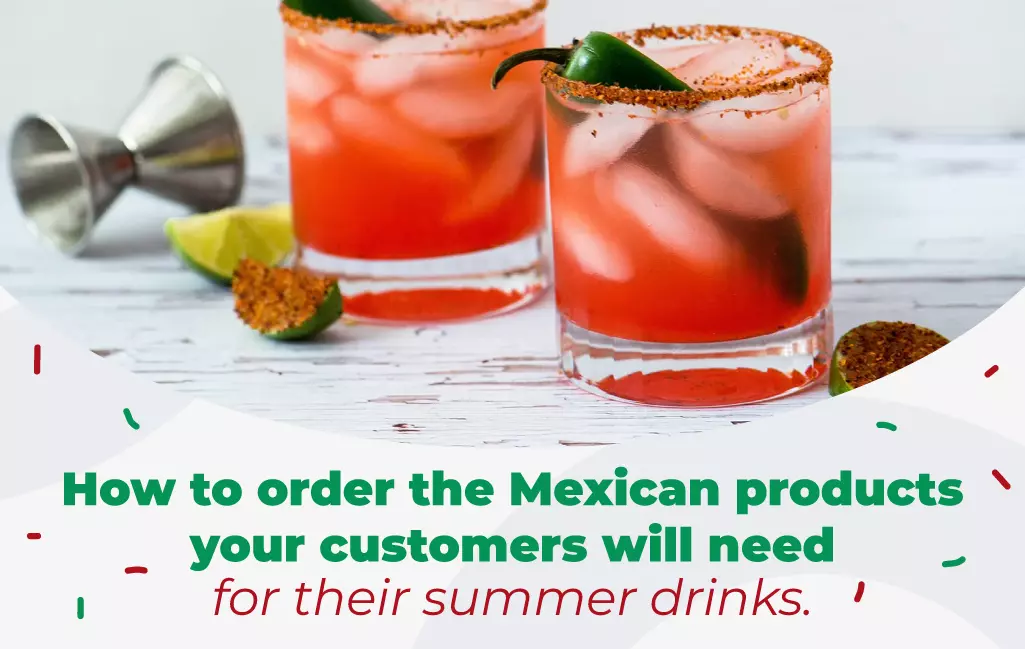 How to order the products your customer will need for their summer drinks with Mexican ingredients?
Start with defining what you are interested in ordering. Especially if this is your first time including Mexican ingredients in your store and you feel a little clueless. Do not worry.
When you are new to selling Mexican products, it is normal to have questions. We have a highly dedicated team that is happy to assist you with any query you may have about our Mexican Products Catalogue.
"I want to say for you that you are excellent at customer service. You are willing to help me always, you are replying to my emails very fast and we are very happy working with you. If you had stars you would get 5 stars from us definitely! Thank you very much!"
– Eleni Georgiou
We highly recommend you check out other articles in our blog since we address several Mexican products you can also learn before making a decision.
If you are ready to partner with us and boost your income, click here to request more info, and our team will contact you as soon as possible.