Snow is almost here, and winter food is essential. The season for cosiness, coats, and warm drinks and treats. There are many treats that people can enjoy during this season of the year—some hot and cold drinks, delicious soups, spicy sauces warm your customers, and even cakes. 
You can provide your clients with Mexican and American grocery products that can be enjoyed during winter. We tell you the best grocery products to offer your clients in the upcoming season. 
---
---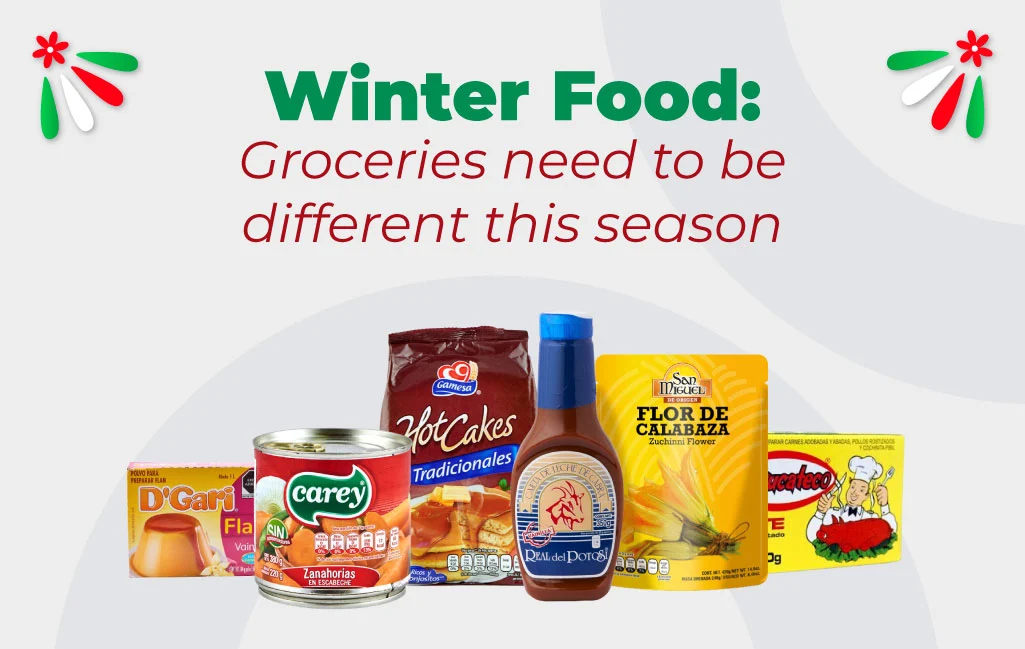 Winter food: Grocery products need to be different this season
Winter food tends to be warmer, more filling and more nourishing than summer food, for example, which is often lighter and easier to digest. This is because the body tends to crave heavier food to develop more fat that protects us from the cold weather. The same happens with warmer food; the body seeks a temperature balance to warm the body. So winter food overall is warmer, nourishing and filling.
Seasonal Affective Disorder (SAD) is a type of depression that occurs during the winter when there is less sunlight.
It can cause weight gain, sleep problems, and carbohydrate cravings.
Eating a balanced diet is essential to keep your mood up and maintain your energy levels.
Winter is a season of cold and dryness. It is essential to stay hydrated and eat foods rich in nutrients.
Below are some foods you should avoid in the winter:
– Fried food
– Dairy products with added sugar or artificial sweeteners
– Processed meats, including bacon, ham, sausage and hot dogs
– Unhealthy fats such as butter, margarine, cooking oils and mayonnaise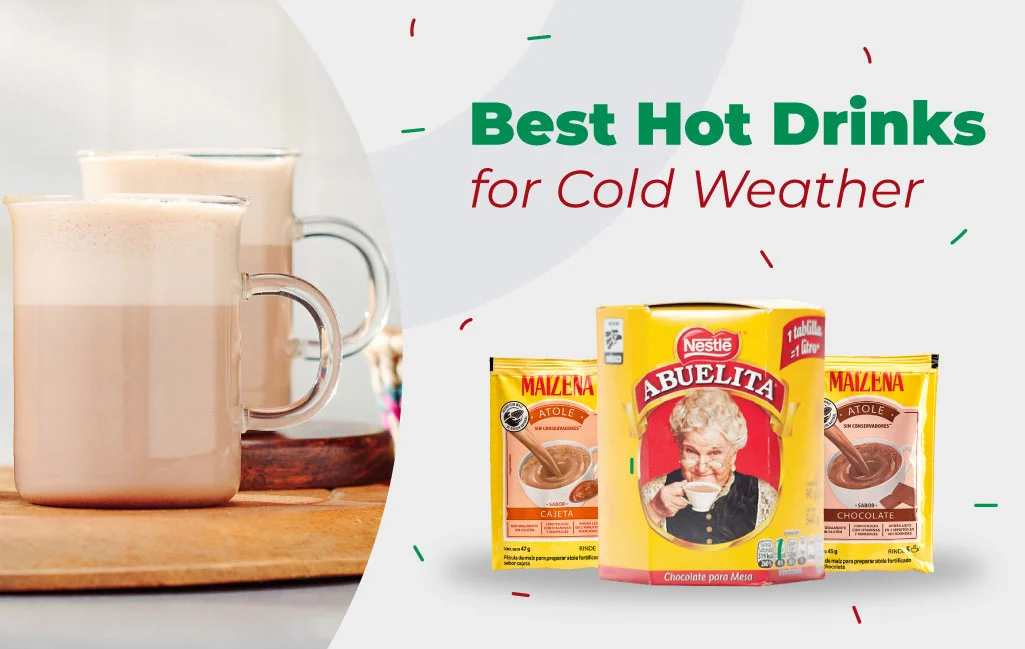 Best Hot Drinks for Cold Weather
As the weather gets colder, it is time to start thinking about what you can do to offer your customers warm and healthy meals. One of the best ways to do that is with hot drinks. These drinks are not just helpful in warming up; they can also be delicious and give your customers a boost of energy.
There are many different kinds of hot drinks that your clients can buy to stay warm.
Hot beverages such as coffee and tea have been popular for a long time. But what about the other options?
Café de Olla:  Cafe de Olla is the best way for your customers to start their day because of its delicious traditional flavour made from a mixture of coffee beans with cinnamon and piloncillo caramel flavour. It is the perfect and ideal product for cold winter days. 
Chocolate Abuelita: This drink will make your customer feel at home. Chocolate Abuelita is a hot drink designed for cold climates as it will boost energy and keep you warm. It is the ultimate drink for all family gatherings, especially in winter. 
Hot chocolate is a classic favourite of many, especially during wintertime. It's easy to make, and it's also very comforting. You can even add whipped cream on top for an added flavour and texture!
Atole: This product fortifies the atole with minerals and seven vitamins that help the growth of children and adults. It also comes in multiple flavours and is the ally of Mexican moms and the perfect drink for cold mornings and evenings.
This traditional Mexican drink is made from corn masa, water, and sugar, also known as a hot drink. Atole has many health benefits, such as being gluten-free and high in fibre. It has at least six ingredients, but your European clients can enjoy this drink more easily with our products. 
Warm Hibiscus Flower infusion: This product is usually recognized for its therapeutic or medicinal properties. As a hot drink, it becomes perfect for the cold seasons. This is because, like most plants, it concentrates multiple vitamins, minerals and bioactive compounds called phytochemicals, with various antioxidant, anti-inflammatory and antihypertensive properties.
Coffee Cream: A product your customers will love, a milk substitute designed especially for cold and icy days since it can be mixed with a delicious hot coffee and enjoy the creamy winter atmosphere.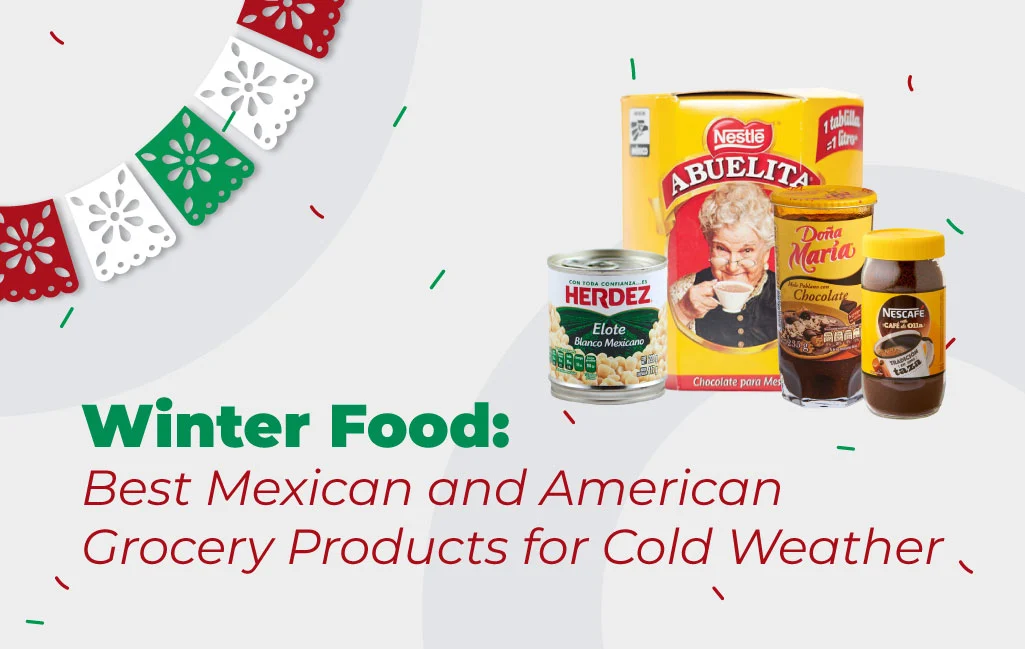 Winter Food: Best Mexican and American Grocery Products for Cold Weather
Winter is the perfect time to enjoy some delicious food. Winter food is not just about warming up and staying healthy. It's also about enjoying the season differently.
In the winter, it's common to crave warm and hearty foods. The cold air can make you feel drained. These are two main reasons why many people in colder climates turn to comfort food for their meals.
Here are some winter recipes for you to try:
It is the perfect source of energy for cold days and, why not, the perfect combination of hot drinks, ideal for winter consumption.
Pumpkin Soup with our Flores de Calabazas: This product is a highly recommended food. Thanks to its various nutrients, it provides many benefits to our body, including the eyes. In addition, it can be consumed in many different ways: battered, salads, soups and more. Since it is a food with a highly energetic source, it is perfect to be well on those cold solid days.
Mole:
Mole is a traditional dish in Mexico that's typically served during the Christmas season. It's traditionally made with chocolate, spices, and many other ingredients.
The word mole comes from the Nahuatl word "molli" which means sauce or gravy. Mole has its roots in Aztec cuisine and is considered one of the national dishes of Mexico. The dish was originally created by indigenous cooks who would use any number of ingredients to make a rich sauce for their meals.
Spicy Food:
Spicy food is another excellent option for winter because it will keep you warm and full of energy all day long! Plus, it tastes incredible!
Soup:
Soup is a classic dish to eat in the winter. We have products perfect for soup:
Carey Pickled Slices Carrots: Carey carrots are the perfect garnish for almost any Mexican meal. Perfect to accompany those warm dinners, so necessary on winter days.
Ideal with tacos, enchiladas, rice or anything to which you want to add the delicious tangy flavour of pickled carrots, herbs, garlic, onion and jalapeño peppers.
Carey Crushed Green Tomatillo or Whole Tomatillo: This product is the ideal accompaniment to hot meals for cold days when energy is at a premium.
Tomatillos, or green tomatoes, are loved throughout Mexico because they are used as the base for many traditional dishes. The red tomato's distant cousin is used to prepare some of the most iconic sauces, such as salsa verde and sometimes guacamole.
Maíz Blanco: This product is perfect for helping garnish any dish or adding cream, hot sauce, dried chilli powder, and lime to make the quintessential Mexican street food. It is a strong energy source that makes it the perfect accompaniment to hot meals that provide so much energy on winter days.
Achiote: Achiote is a natural colourant, also called "anatto", "onoto" or "bijol", which is obtained from a small tree that bears a fleshy oval fruit and whose seeds give rise to the spice. These are edible and are used in some countries as a substitute for saffron to season and colour dishes, its high caloric and energetic content makes it the perfect complement to season and accompany hot dinners, ideal for cold days.
Seasoning: A seasoning is a product used in the kitchen to season any recipe. These ingredients are characterized by their unique flavours and aromas, which cannot be obtained in any other way than mixing some products until a seasoning with genuine characteristics is obtained.
It is characterized because it is an exclusive and unique energy source capable of strengthening our bodies on winter days.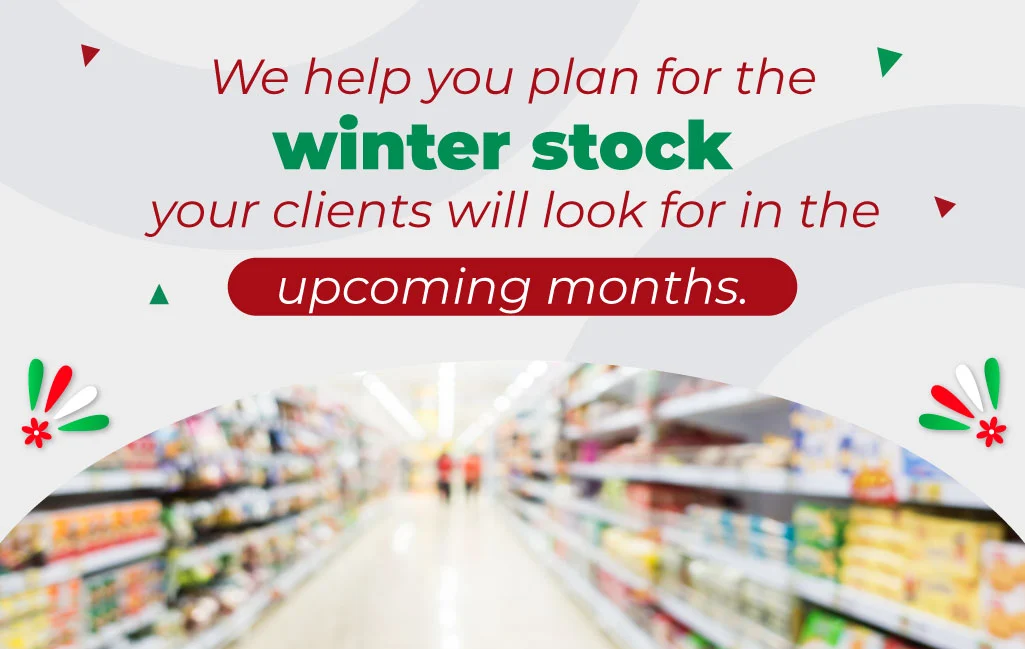 We help you plan for the winter stock your clients will look for in the upcoming months.
It is helpful for your business to include products exclusively thought and designed for the winter season.
We guarantee to meet your and your client's needs during the winter season with authentic American and Mexican brands that your customers will be happy to try.
Click here to contact us, and we will help you place your order. Here we mention some of our products, but of course, there are many more you can select.